According to this Hindustan Times report, "As Biden was welcoming Modi on the south lawn of White House and engaging in bilateral talks on June 22, Obama, in an interview with CNN, had said that for Biden, the "protection of a Muslim minority in a majority Hindu India" was worth mentioning to Modi. Obama had added that if he had a conversation with Modi, part of his argument would be that if the Indian PM didn't protect the rights of "ethnic minorities", there was a "strong possibility" of India "pulling apart". These "large internal conflicts", Obama had said, would be contrary to the interests of both "Muslim India" and "Hindu India"."
Many reasons are being attributed to former U.S. President Barack Hussein Obama's comments. That is beyond the scope of this article.
Obama appears ill informed. Because U.S.A. has sea on east and west, peaceful neighbours in north and south, is a global power Americans vision about the world is restricted. I recall when in 1997, I worked for the Indian subsidiary of a U.S. media company and had to speak to the Head of Treasury in New York to get her go ahead for say a $ 3 million External Commercial Borrowing. Her question was how will you hedge the loan – does India a forward market? Of course, we did.
Obama made the following key points – protection of Muslim minority, protection of rights of ethnic minorities and failure to do so mean India pulling part. Before responding to Obamaji here are concerns.
1. U.S. President takes Oath of Office with one hand on the Holy Bible? Does this not offend the sentiments of minorities?
2. In 2021, 48,830 died from gun related injuries in the U.S. (April 26, 2023 report of Pew Research) That is more than 44,729 lives lost due to Terrorism in Jammu and Kashmir from 1988 to March 31, 2019
Indians are followers of One World One Family-Vasudhaiva Kutumbakam. We are deeply concerned about lives lost.
Read Ambassadors for Peace Program run in LA area by an Indian American And hear How ancient Hindu wisdom was used in LA
3. During my visit to your beautiful country (east and west urban) I hoped to see the original inhabitants of U.S.A., the Red Indians, but met one in one of Washington's wonderful museums.
Come to India Obamaji, you will see Muslims everywhere (including Bangladeshis), over 20 crores of them.
4. The last Catholic President, before Joe Biden was sworn in 2020, was a favourite, John F Kennedy (killed in 1963) (Pew Research).
During these 57 years was the political system not concerned about the sentiments of the Catholic minority? Conversely, India had a Sikh Prime Minister for ten years.
Why was John K killed? In India, we know why Mrs Indira Gandhi was shot dead. Please take care of Bidenji.
5. During your Presidency Obamaji, in 2010, there was a proposal to construct a Mosque at Ground Zero in New York. Since you have expressed concern for Indian Muslims am sure you might have supported construction of the ground zero mosque?
Read 9/11, Ground Zero mosque, Babri & their symbolism
6. Why has the U.S. never had a women or Muslim President? ReadWhy the U.S. never had a woman President
Conversely, India's President is a woman and member of the Vanvasi Samaj. (tribal). Before that Smt Pratibha Patil was President not to forget Smt Indira Gandhi as Prime Minister. India had two Muslim Presidents in Abdul Kalam and F Ahmed.
7. Did you know that India is home to Shias, Sunnis and Ahmediyas who are not treated as Muslims in Pakistan?
Please enlighten, if in the U.S. different Muslim sects co-exist?
8. The U.S. got freedom in 1776 but abolished slavery in 1865. Why did it take 89 years to abolish slavery? Hope it does not exist now.
9. The United States emerged from the Thirteen British Colonies established along the East Coast. Thereafter, land was purchased or acquired. 10 U.S. States that were once part of Mexcio Source Why did the U.S. adopt this route to nation building? Has the U.S. taken care of the citizens of acquired regions?
Conversely, India's civilization is thousands of years old. We gave refuge to Jews, Christians and Parsis before the world discovered North America? These communities continue to survive. In fact, one of India's biggest industrial houses, The TATAS is owned by a Parsi!
Parsis and Jews are minorities in India who never play the minority card!
I am not even referring to the Black Lives Movement and Racism in the U.S.
10. The U.S. is so concerned about human rights in India yet it has supported autocracies across Asia and Africa? Please enlighten on this contradiction.
Former foreign secretary Kanwal Sibal wrote Human Rights is a Western Policy Tool in the Economic Times, "Human rights as a concept, with philosophical and political roots in the French and American Revolutions, was inscribed by the West on the international agenda by establishing the UN Human Rights Commission in 1946 and in 1948 by the adoption of a Universal Declaration of Human Rights (UDHR) by the UN General Assembly, a document drafted under Western superintendence. This emphasis on human rights encompassing life, liberty, equality, freedom of speech, movement, thought, opinion, and religion was ironic when most Asian and African countries were and remained under colonial rule for years after UDHR and were denied all these rights and freedoms by the West."
The Indian equivalent of rights is Dharma or duty simply put. ReadHuman Rights in Sanatana Dharma
11. Democracy existed in India, in an Indic form, before North America was discovered. ReadConcept of Elections and Democracy in Vedas and Dharma Sastras
12. Why have, over the years, U.S. based Church organizations remitted billions of dollars into India. Has the Government of India invited them to do so? OR are there no poor people in the U.S. that they can serve!
Read Time to reviews law for foreign funding of NGOs
Why is the U.S. so concerned about minorities in India? It has enough domestic issues to deal with, some of which are outlined above.
Finally, did the U.S. find Weapons of Mass Destruction in Iraq?Read Washington Post report of March 22, 2019
The purpose of the above is to share a perspective and not point fingers at the U.S, a country I admire for Innovation amongst others.
Now we present Rights of Muslims in India. For a perspective rights of the majority Hindu community are also mentioned. We start with a background.
India was partitioned in 1947 based on religion. Muslims who wanted a separate Muslim majority country got the areas that comprise Pakistan and Bangladesh today. The latter broke away and became independent in 1971.
During Muslim invasions Hindu temples were destroyed or converted into mosques and Hindus forcibly converted. Muslims in India can be divided into Ashraf (high-born), Ajlaf (low-born) and Arzal (meaning degraded, are equivalent to untouchables). ReadEmpowerment of Pasmanda Muslims is a must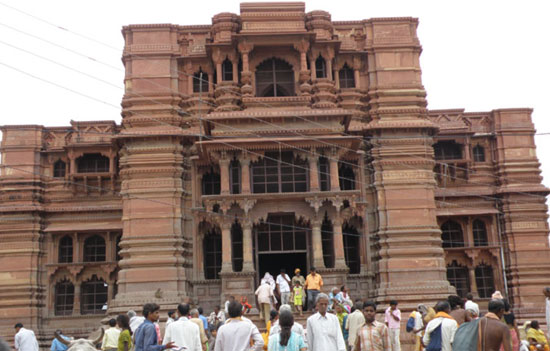 Govind Temple Vrindavan was originally 7 storey, destroyed by Aurangzeb. Built by Raja Mansingh in 1590.
To know what Muslim invasions were like read four articles written by a retired Pakistani officer.
Sacking the Sub-continent Mahmud Ghazni
Sacking the Sub-continent Taimur
Sacking the Sub-continent Nadir Shah
Sacking the Sub-continent Abdali
Post independence the erstwhile rulers i.e. Muslims and Christians who did not give Hindus equal human rights are now considered as minorities. ReadWho is a Minority in India J Sai Deepak wrote in India that is Bharat, "Religious minorities in this context were denominational minorities from within the same religion, namely Christianity." Pg. 93 The concept of minority, being Christian in origin, is alien to India.
It is interesting to read the "Constituent Assembly Debate on Reservation for religious minorities".
Excerpts from article by R Upadhyay: Sardar Patel said, "If the process that was adopted which resulted in the separation of the country is to be repeated, then I say: those who want to have a place in Pakistan and not here. Here, we are building a nation and we are laying a foundation of One Nation, and those who choose to divide again and sow the seeds of disruption will have no place, no quarter here and I must say plainly enough" (Constituent Assembly Debate VOL. V).
Those who speak about minority rights must read what Supreme Court Judgment, in Mudgal vs. Union of India, A. 1995 S.C. 1531 (para 35), had to say: "Those who preferred to remain in India after Partition fully knew that the Indian leaders did not believe in the two nation or three nation theory and that in the Indian Republic there was to be only one Nation – the Indian Nation – and no community could claim to remain a separate entity on the basis of religion."
Another myth is that Hindus and Muslims always lived in peace and current friction is a recent phenomenon. Read including writings of Dr Ambedkar
Now coming to examples of special rights of Muslims in India:
1. Government exercises little or no control over Mosques but controls Hindu temples.
2. In southern India states temple collections become part of the state government treasury. This is not the case for mosques and churches.
3. The government funds religious education of Muslims in Madrassas. "That is, Muslim theological education is accepted by the University Grants Commission. While, Hindu theology departments are debarred by the UGC. There are Masters program in Christian Studies at the University of Madras. No such programmes are there for Hindu Studies. This is distinct from theological studies."
4. Muslims in India can legally marry 4 times, Hindus can only once.
5. Scheduled Tribes who have converted to Islam or Christianity continue to be treated as ST for the purposes of government benefits and in the case of the northeast ST, even post conversion, do not pay income-tax. ReadTax laws should be same for all Indian citizens
6. Population increases symbolises rights enjoyed
In 1951: Total population of India was 36.11 crs, of whom Indian Religions were 31.49 crs, Muslims 3.77 crs and Christians 0.84 crs. In 2011: Total population 121.09 crs of whom Indian Religions 101.08 crs, Muslims 17.22 crs and Christians 2.78 crs.
Conversely, Hindus have virtually vanished from Muslim majority Pakistan and are continuously persecuted in Bangladesh.
Today, there are estimated 25 crore Muslims in India. How are they a minority? They are app 75% of U.S. population of 33.49 crs.
7. India has a separate law for Muslim charities.
The Waqf Board is subject to a different law and receives grants from the government but Hindu religious affairs are controlled by the government. Waqf property is dedicated to The Almighty in supposedly a Constitution driven state? Only Muslims are by law allowed to become CEO's of the State Waqf Boards. These boards receive grants from the government. Such Boards can fund religious education. Conversely, Hindus temples are controlled by the government. ReadFAQ on Waqf Board
8. The Government of India provides Scholarships to Minorities (primarily Muslims). Details.
Academic Year 2021-22 Pre-Matric Rs 1,329 crores.(1129 cr), Post-Matric Rs 469 crores.( 501 cr) and Professional Courses Rs 353 crores (381 cr). Figures in brackets are for year 2014-15. Total scholarship in year 2021-22 Rs 2,151 crores and 2014-15 Rs 2,011 crs.
9. In matters of Inheritance Hindu girls are entitled to an equal share of property while Muslim women get less. Read Comparing inheritance laws for Hindu and Muslim women
Note the Hindu community has no role to play in not providing equal inheritance rights for Muslim women.
10. The Personal Laws of Hindus were reformed in 1955. For Muslims no! The Hindus have no role to play in this delay.
In the U.S. is there one Law for all or do you permit Muslims to have personal laws.
11.Applicability of Right to Education Act
This author and co-author Hariprasad Nellitheertha wrote in Swarajyamag –
a. Minority institutions are exempt from reserving 25% of the seats under the Right to Education (RTE) Act. Conversely Hindu schools have to under RTE, reserve 25% of their seats to be allocated by the government. Some of the best schools are those run by missionaries. Why should they not support education of the downtrodden?
b. There is a huge disparity on the procedure to be adopted with respect to selection of students. Section 13 of The RTE Act says:
"No capitation fee and screening procedure for admission: (1) No school or person shall, while admitting a child, collect any capitation fee and subject the child or his or her parents or guardian to any screening procedure."
Read How Hindu Rights Have Been Seriously Damaged by Article 30 and RTE Act
12. The Bill for reservation of 27 per cent seats for the OBC is not applicable to institutions of higher education run by minorities.
There is more on this, not sharing for sake of brevity.
13. Lending to minorities comes under Priority Sector Lending
According to the RBI circular on Priority Sector Lending, dated July 1, 2019, "minority communities considered are Sikhs, Muslims, Christians, Zoroastrians, Buddhists and Jains. Sufficient care may be taken to ensure that the minority communities also receive an equitable portion of the credit."
"An important objective of the Prime Minister's 150-point Program for Welfare of Minorities is to ensure that an appropriate percentage of the priority sector lending is targeted for the minority communities and that the benefits of various government sponsored schemes reach the under-privileged, which includes the disadvantaged sections of the minority communities."
This circular assumes that only non-Hindus are under-privileged and deserve equitable credit. Saab ka saath, Sabh ka Vishwas makes good optics.
14. In 1993, SC ordered payment of salaries to Imams
Has similar orders been passed for payment of salaries to Granthis, Monks and Hindu priests? Many state governments pay Imams and Christian Priests salary or allowances. No such facility for Hindus.
Does the U.S. government pay Imam salaries?
15. Am sure you know about 59 Hindu women and children who were burnt alive in Gujarat in 2002. Your comments! Hence the reaction in which 250 Hindus died, still much lesser than the U.S. post September 11.
Now if 59 Protestants were burnt alive in the U.S., how would the government have reacted?
Read Not just Modi – guide to 2002 riots, before and after
16. Hindus are the biggest victims of terrorism by the Minorities
Read List of Terrorist Attacks in India
To this add Hindu Victims of Hate Crime Part One and Two. For a more detailed list contact scientist, author and TV panelist Dr Anand Ranganathan @ARanganathan72 It is the Hindus who need protection in India esp. whilst celebrating their festivals.
17. Just like Israel has the Law of Return for Jews worldwide, India's CAA only provides for persecuted Indics (Hindus, Buddhists and Sikhs) and Christians from neighboring Muslim majority countries to take refuge in India. Just like there is one Jewish country in the world there is only India for Indics.
Read CAA redeems historical promises by Sandhya Jain
Barackji, please compare the rights that India offers to Muslims with what the U.S. offers. Also, compare India with what any Muslim/Christian majority country offers to minorities.
Please do not look at India through Abrahamic religion eyes. Indics are different. ReadComparing Indic vs. Abrahamic faiths–A Primer
The purpose of this article is to share information with the respected Barack Obama and his likes so they are better informed. I am grateful to Obama for goading me to write this.
No offence meant to any person living or dead. Errors if any are without malafide intent. I am happy to stand corrected.
Much noise is being made about Sabrina Siddiqui of WSJ for asking Modi a question. The American Muslim lady, with parents whose roots are in Pakistan, should look within her country of origin first. She is being trolled because of Pakistan's track record and her ignorance about rights granted to minorities in India, not to forget Hindu suffering during foreign rule and post 1947. If journalists have freedom of speech, others have freedom to respond as long it is not abusive. If a journalist has strength in their arguments, they can respond or ignore.
Featured Image: Taking oath as President, with one hand on the Holy Bible. Courtesy MINT or and Hindustan Times.
Article authored by Sanjeev Nayyar appeared earlier on eSamskriti republished in lieu of content sharing agreement with smart4bharat.com